AT&T Related Shirts
These shirts were collected before we lost our shirts in the massive layoffs of 2002.

For a larger version, click on an image.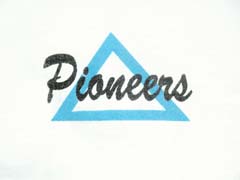 2001 - The AT&T Cares program helps local communities by allowing an employee to volunteer one day out of a year. For painting bird cages at the Raptor Trust, I got one of the "AT&T Cares" shirts. After the painful layoffs in 2002, an appropriate slogan is "AT&T Cares Not." I'm still thinking about joining the TelecomPioneers.




1998 - While this is not a limited edition, I did buy it at the limited-invitation re-opening of the Rock and Roll Hall of Fame sponsored by AT&T on April 2, 1998 when we unveiled our AAC jukebox.




1997 - a2b music was our attempt to do iTunes using our MPEG-2 AAC coder, but we couldn't get cooperation from any of the major record labels for anything more than a few dozen selected tracks. So we tried again by licensing Indie music for digitalphono.com.




1996 - AT&T was an offical partner for the 1996 Olympics in Atlanta. The company sold commemorative clothing to employees. This was one of my favorite jackets.




1995 - The Euphony chip is a low cost RISC processor with DSP functions and ATM interface. Euphony was developed by the Research Initiatives Laboratory (Lab 1128) of AT&T Labs Research as a low cost AAC/PAC decoder and for experiments in digital audio and home networking. Euphony samples were available to anyone in AT&T in 1996. See also - Euphony chip logos and PAC logo.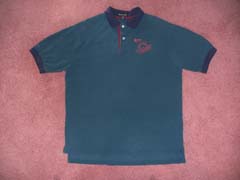 c. 1994 - VCOS (Visible Cachine Operating System) ran on the AT&T DSP3210. Visible caching enabled "swapping" of instruction and data segments into on-chip memory, greatly improving performance. Without VCOS, it would have been difficult to multi-task the DSP MIDI synthesizer with the other DSP applications. Our group of 12 worked 60-hour weeks for a year on DSP Multimedia, and then got laid-off by AT&T MicroElectronics in 1994.




c. 1993 - For the VCOS MIDI synthesizer, we contracted with E-Mu Systems for the sound library. An expanded version of this library was later used as the default SoundFont for the Creative Labs Soundblaster 16 AWE. I got the shirt during a visit to E-Mu Systems in Scotts Valley, CA. See also - SoundFont Trademark.




c. 1992 - The Peter Face T-shirt - Of course Peter's face -- stylized with the AT&T "Death Star" -- was on t-shirts which we all wore "proudly", and some people sparingly gave them out at conferences as treasured gifts. The backside reads, "where the avant garde meets the rear guard."




c. 1990 - XUNET was the "eXperimental University NETwork" research project sponsored by AT&T Bell Labs Research, Murray Hill, NJ. It started in 1987. Primary university participants were the University of California at Berkeley, the University of Illinois at Urbana-Champaign, and the University of Wisconsin-Madison. See also - XUNET logos.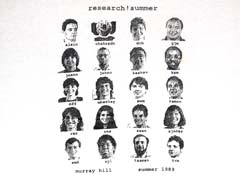 1989 - Ramon Caceres laid out this array of faces to commemorate the summer 1989 interns at Murray Hill. "One of these ... is not like the others ..."




c. 1986 - As part of the 1984 divestiture, Datakit was also split into two similar but incompatible products -- Datakit® VCS (Virtual Circuit Switch) from AT&T Network Systems and ISN (Information Systems Network) from AT&T Information Systems. The RADIAN controller software ran on both sets of hardware, so that a unified network could be built from a mix of VCS and ISN nodes with the help of a common trunk module.

---
NoBell Home - gjm - last update 1/17/2004, created 1/3/2004